Whatever your industry, ensuring effective mobile workforce management system – particularly if your organisation involves mobile working – is vital, but there are a number of things to consider.
In days gone by businesses required professional offices to succeed – a place that workforces performed their tasks side by side, and where out-of-office workers delivered their paperwork and processed their data.
As technology has advanced the need for a pen-and-paper data management system, and for an office to base the workforce, has reduced, thanks to the growth of mobile working devices and technologies. Organisations can communicate at the touch of a button, and much of the workload can be managed digitally from anywhere in the world.
"Companies need a mobile strategy roadmap to capitalise successfully on mobile technology and evolving user behaviour"
–        Capgemini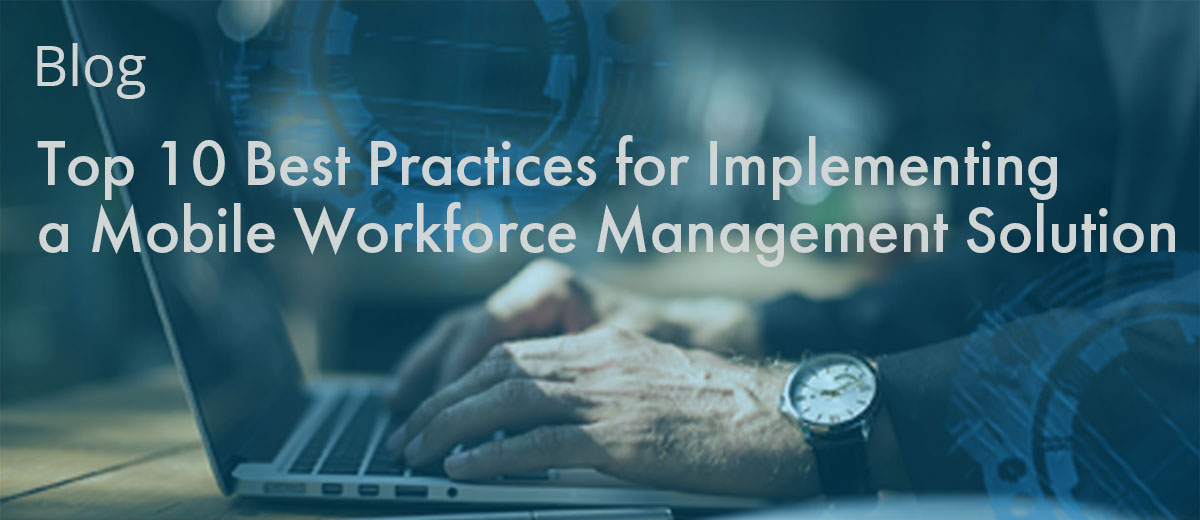 If you're planning to step into implementing a mobile workforce management system, we have created ten best practices that you need to focus on to ensure a smooth transition and a guaranteed success.
1. Mobile Strategy
Planning in advance ensures that your mobile workforce management system incorporates everything that you need; decide before rolling out any technologies, devices or systems, what exactly you need them to deliver, and who needs access to which technology and program. Creating a strategy and training your mobile workforce in advance can prevent problems before they arise, and knowing what steps you need to take to ensure success means that any guess work or complications are removed.
Your mobile strategy needs to include the regulations which manage the use of devices and applications and the security of the data being transferred, as well as creating a uniform system of implementation.
2. Mobile Device Management
Mobile Device Management systems – for example, Airwatch – are cloud-based operating systems that allow data entry, communication and file sharing for organisations to ensure that every member of the workforce has access to the information and data they need; they also give mobile workers tools to submit data that can be processed by other members of the team, from sales orders to auditing tools.
It's vital to ensure that your organisation sources the best mobile device management for your needs. Your system should incorporate all the functionality that you need now but also can be expanded over time to include any developing technologies and requirements as your business grows.
3. ROI Calculated
When you know what capabilities your mobile devices and mobile workforce management system need to offer, before you start investing your finances on technology, you can plan for the running costs and initial outlay. Ensure that your investment offers reasonable return – and you can offset the expense against your earnings. Sound investments require research and planning and an understanding of the benefits they will bring to your organisation. Not only can the right technologies increase productivity, but the range of services and customer service improvements they bring to your business can lead to increased revenue. Though the initial outlay might be a significant amount depending on the size of your business, the long term ROI makes the right products sound business choices.
4. Device Selection
Research which devices are best suited to your needs – whether that's smartphones, tablets or more hardy technology suited to a rougher working environment. Delicate tech isn't suited to industries like building or arboriculture. However, sales team with large regional sales areas would be best suited to fast tablet technologies that can be used to submit paperwork and showcase products to clients. Ensure that you understand what you need from your mobile tech and that the capabilities of your chosen products meet your requirements before investing.
5. Is BYOD (Bring Your Own Device) the Right Choice for You?
Many businesses rely on a BYOD approach for mobile workforce management system – meaning that the workers supply their own favoured device, often smartphones and tablets, to carry out tasks related to their job. When you take this route, it's wise to ensure that you have a solid and fool proof BYOD policy in place before any work is carried out; this includes a secure cloud network and an agreement on what level of personal use and what level of company use of the data and storage is required.
While this approach can save your organisation money on investing in new tech and maintaining devices, including a budget for losses and damages, it can lead to headaches on data access and permissions, and needs to be thoroughly researched in advance. Everyone needs to be clear about the company's policies when using personal devices to access secure information.
6. Start Simple and Expand
There are a huge number of mobile workforce management systems available, all utilising cloud storage and multiple access points across an organisation. Many of these applications are offered as an off-the-shelf solution to meet business needs, and this can mean that apps are either too limited to meet your needs, or so multifaceted that the workforce has access to functionalities they simply don't require, which take up valuable space on your devices.
The best way to avoid frustrations in this area is to work with software designers who can tailor these applications to suit your specific needs. Starting simple, with systems that provide basic functionality to suit your industry, with the option to expand these functions for those with differing roles within the organisation, is a great way to ensure that money and time aren't wasted.
7. Customer References
An option for your customers and end-users to comment on the products and services they've received from your organisation is a great way to prove to your market that you're getting things right – and to address any issues that may have arisen, and ensure that you continue to grow and succeed. This isn't appropriate for every industry, but is ideal for the customer service industry or online stores, for example, where positive feedback and ratings from customers builds trust and reputation.
8. Plan a Pilot Project – Including Costs
It's no use throwing finances and resources at a project without understanding what the risks are, and what steps need to be taken to ensure success. Planning a project in advance, through every step of the process, and mapping out the steps from idea to reward ensures that everyone involved is on the same page, and all working towards the same end goals, with guidelines in place to keep the whole workforce on the same path.
A number of mobile workforce management system providers work on a success based fee – which ensures that they are as invested in the success of your organisation as you are. Working on this basis means that the service is working for you, and that the systems you are relying on are designed to best support your organisation.
9. Allow Subcontractors to Use the Systems
When subcontracting, if you utilise a mobile workforce management system in the daily running of your business, allowing access to the data and systems required for the subcontractor to participate in managing and submitting data and information in the usual format is required. This is an area for which you have to have solid policies in place, which outline the accessibility and functionality of the applications and devices, and which state clearly what access the subcontractor should have and the protection of the company data.
10. Review
Though the investment in mobile devices and systems is significant, it is also – in modern business – necessary, but this technology develops quickly and can quickly expand the functionalities and capabilities of newer devices to better suit your needs. Review the products and applications that you are utilising regularly, and expand the capabilities as far as possible to continue the benefits of the mobile workforce management system you've chosen.
To avoid 10 most common mistakes companies do while implementing Mobile Work Order Management Solution, read our blog 10 Mistakes when Implementing Mobile Work Order Management Solutions.
https://www.mobiess.com/wp-content/uploads/2019/12/10tips.jpg
300
300
karl.horner
https://www.mobiess.com/wp-content/uploads/2021/12/mobiesspngweb350.jpg
karl.horner
2018-11-06 16:39:23
2022-09-24 18:57:49
10 Best Practices for Implementing a Mobile Workforce Management System